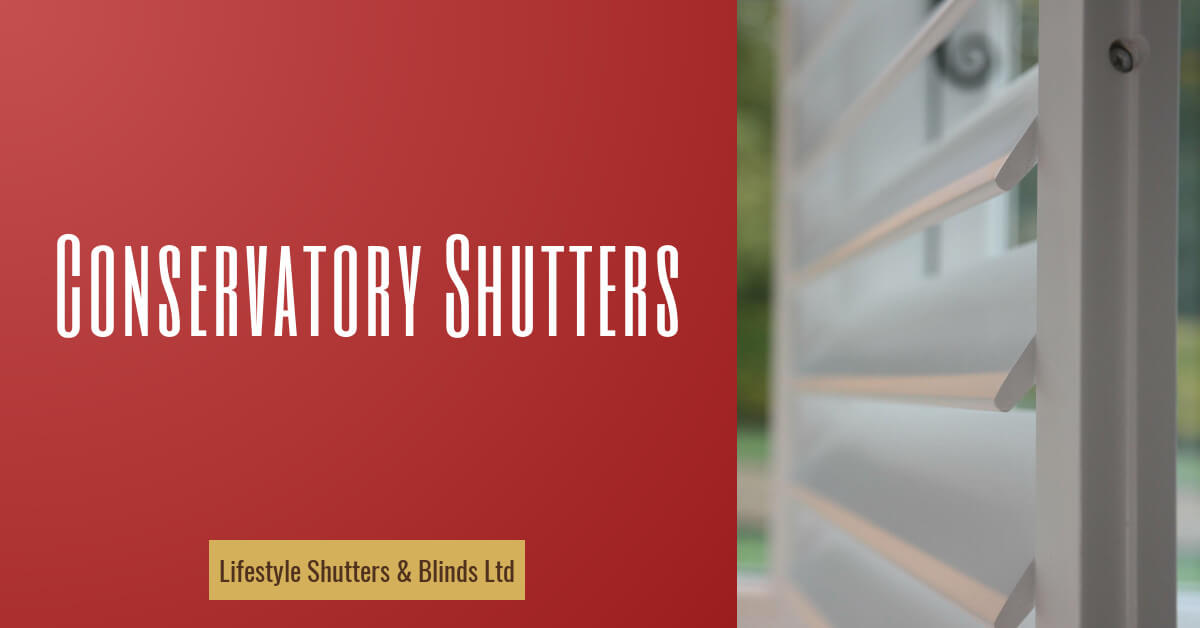 Conservatories can be an incredibly useful and aesthetically pleasing addition to any home. If you're working on designing a bespoke conservatory or you're adding the final touches to finish off your new orangery, you may be looking at blinds and shutters.
Conservatory blinds are a popular option, but shutters offer a wealth of benefits, as well as creating a stunning look. If you're interested in the idea of adding shutters to your conservatory windows, you've come to the right place!
This guide will provide you with all the information you need to find the best shutters for your conservatory.
Why Choose Shutters for Your Conservatory?
Blinds and curtains often steal the limelight when it comes to adorning windows. If you have a brand new conservatory or you're in the middle of the design process, it's always beneficial to consider all the options before you make a decision.
Shutters may not come to mind first, but that doesn't mean that they're not worthy of consideration. Shutters are an excellent choice for conservatories and orangeries, and they offer a wealth of advantages for homeowners. In details:
1. Conservatory shutters for complete privacy
Conservatories are traditionally light and open spaces, but sometimes, you want to enjoy the privacy of your own home. If you're reading, you're enjoying a cup of tea with a friend, or you've got the family round for a dinner party, you may not want everyone on the block peering in.
Conservatory shutters give you the option to enjoy complete privacy, while also enabling you to maximise natural light and take in the views when your shutters are open or partially open.
You can choose when to open and close your shutters, enabling you to enjoy the best of both worlds. Due to the concertina design of conservatory shutters, you'll still be able to see out and bring light in even when your shutters aren't wide open.
2. Conservatory shutters complements the interior design of your home
Aesthetics: shutters can have an incredible impact on the aesthetic of the room. You can choose from a range of options to find a style that suits your taste and complements the interior design of your home.
Shutters look chic in a modern home, but you can also adopt a more rustic, country-style for a traditional conservatory or channel Mediterranean vibes in an orangery. Whatever your taste, you're bound to find shutters that will look perfect in your conservatory.
3. Conservatory shutters for easy maintenance
Easy maintenance: general wear and tear can easily take its toll on soft furnishings and material blinds. Shutters are often a much more robust and practical solution.
Shutters require minimal maintenance, and it's very easy to keep them in pristine condition. You can wipe vinyl shutters clean in a matter of seconds.
4. Made to measure to ensure a perfect fit for every window
Bespoke: conservatory shutters are designed and customised to suit the individual conservatory or orangery. Every shutter is made to measure to ensure a perfect fit for every window.
If you choose to have conservatory shutters, your windows will be measured, and the shutters will be fabricated according to these measurements. When your bespoke shutters are ready, you should find that they slot in with minimal hassle to create a stunning look.
5. Conservatory shutters for increased noise control
Many people like to retreat to the conservatory for some peace and quiet. If you're surrounded by houses or your home backs onto the road, shutters can help to reduce noise levels and enable you to enjoy a tranquil spot to relax, catch up with friends or family or indulge your interests or hobbies.
6.Conservatory shutters for improved insulation
If you have a conservatory, you may have noticed that this is a room that is highly responsive to temperature changes. Conservatories can often be very hot on a summer's day and cold on a winter's day. If you struggle to get the temperature just right, shutters may be the solution.
Shutters can help you control the temperature of the room, keeping you warm when it's frosty and grey outside and cool when the sun is beating down.
What Kinds of Shutters are Available for Conservatories?
It's always good to have choices when working on new interior design concepts or home renovations and makeovers, but sometimes, having a range of options in front of you can make life difficult. There are various options available for conservatories, including:
Full height shutters: Full height shutters are ideal for larger conservatories and orangeries. As the name suggests, these shutters cover the entire window, offering you total privacy. Full height shutters are suitable for almost every door and window, and they're an excellent option for those keen to use their shutters to make a style statement.
Shutters and blinds: If you have shutters in the conservatory, this doesn't mean that you can't have blinds too. Shutter and blind combinations work really well together, and they're ideal for classic, modern conservatories.
Vinyl shutters: Vinyl shutters are often recommended for conservatories because they are robust and hard-wearing and they also require very little maintenance. Vinyl shutters look great, and they're also an excellent investment, as they last for many years.
Plantation shutters: plantation shutters provide a stylish solution for homeowners who want to keep cool in the summer and warm in the winter. These shutters are brilliant for regulating room temperature, and they look wonderful. These shutters can be fitted to conservatory windows and ceilings.
Choosing the Right Shutters for Your Conservatory
If you're wondering which kinds of shutters to choose, there are various factors to take into consideration.
1. Materials
A conservatory is not the same as a living room or kitchen, and due to its location, the range of materials may be more limited. Vinyl shutters are generally considered to be a favourable option for conservatories because they are hard-wearing and they are less susceptible to changes in the environment and the weather.
Wooden shutters are a popular choice for internal spaces, but they don't tend to weather the conditions as well as vinyl PVCu shutters. Temperatures can rise and fall unexpectedly in a conservatory and there's a chance of exposure to moisture. This is why vinyl shutters are preferred to wooden shutters.
2. Price
Budget is likely to play a role in the decision-making process for many people looking at shutters. If you're shopping around, get some quotes for different styles and have a think about what you can afford and how much you'd be happy to pay.
You may find that some options are cheaper than others, and once you have the numbers in front of you, you should find it easier to make a decision.
3. Style
Everyone is unique and we all have different ideas when it comes to decor and design. Take a look at different styles of shutters, look through portfolios and galleries and get some inspiration from blogs and magazines.
Choose a style that complements the design of your home and creates the kind of look you want in your conservatory. It is possible to customise shutters, so it's well worth taking some time to go through ideas and work out exactly what you want.
4. Upkeep
If you're a busy person with a hectic schedule, you probably don't want to spend your free time cleaning or tending to your shutters. If you're searching for a low-maintenance solution, vinyl conservatory shutters are an excellent choice. You can wipe them clean using a damp cloth and they require minimal upkeep.
5. Privacy
When you're looking at different shutter styles, think about how much privacy you want your shutters to provide. Do you want the windows and doors to be covered or would you rather have some open spaces, which could be covered by blinds?
This is a matter of personal preference and it's useful to think about how you plan to use the space and the location of your home when you're making a decision.
Final Thoughts
Have you got a conservatory, which could do with an injection of style and pizzazz? Or are you thinking of adding a conservatory or an orangery to your home?
If you're considering a mini makeover or you're searching for inspiration for a brand new conservatory, have you thought about ordering bespoke conservatory shutters?
Recommended reading: Home Transformation Ideas
Shutters provide an alternative to curtains and blinds and they offer a range of benefits for homeowners. Shutters suit modern and traditional properties, and they can provide insulation and reduce noise levels, as well as creating a stylish aesthetic. Shutters are robust and durable, they come in a range of different styles, and they're made to measure for a perfect fit.
If you're thinking about adding shutters to your conservatory, consider the aesthetic and style of the room, get some quotes and have a look around at the range of shutters available for conservatories.
Vinyl shutters are generally considered to be the best option for conservatories, as they can weather the conditions and withstand changing temperatures.
If you see some shutters you like, the next step is to measure the windows and when your bespoke shutters are ready, they will be expertly fitted, and you can start enjoying your incredible new conservatory.
If you haven't considered shutters for your conservatory yet, hopefully, this guide has given you a better understanding of the benefits of shutters and provided you with some inspiration and ideas.
If you need help deciding, make sure you get in touch with us today for a free consultation and advice.