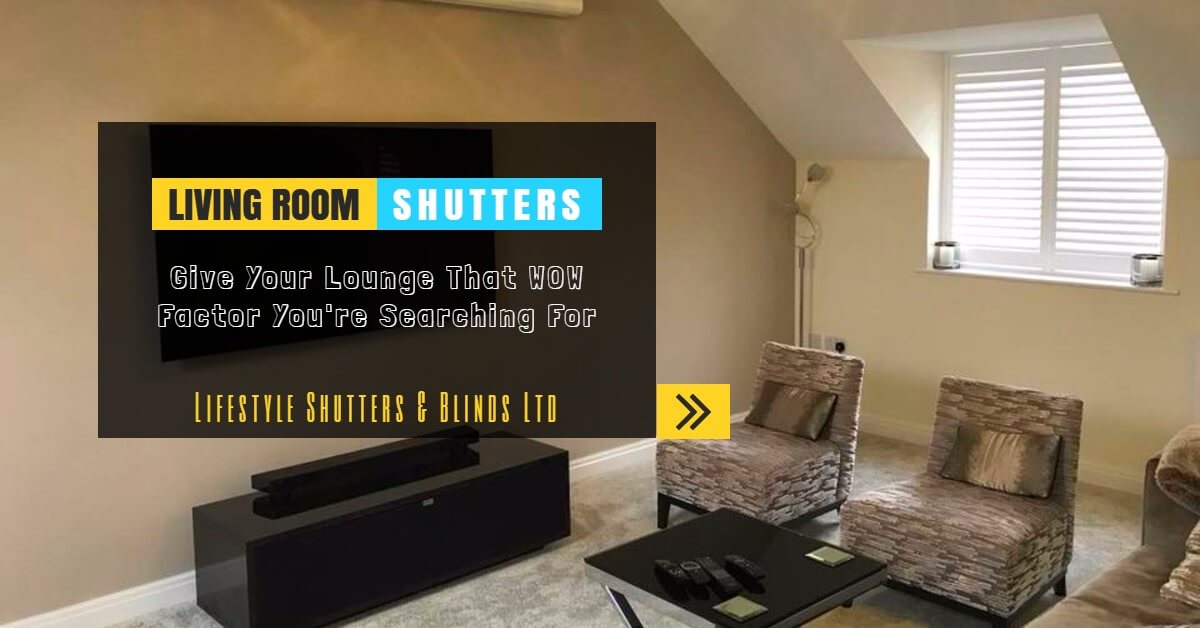 The living room is the space in the home that, above all others, gives you real room to let your decorating spirit out. They're often the biggest, and the most trafficked rooms in the home not just by you and your family, but by those you invite to socialize as well.
It's where your home makes a real impression, so you want it to have a character, an appeal, and a wow factor all its own. The furniture, walls, and floors all contribute, but the windows are an oft-forgotten aspect that goes underutilised.
Let's look at why shutters could play the starring role in giving your lounge the appeal it craves.
A Little More Personality to Your Living Room Windows
Shutters instantly add more character to your windows, bringing the room to life. Other features, such as blinds, are fairly lacking in comparison, while those gorgeous curtains you've chosen might spend most of their time open, offering very little visual impact.
Shutters are a timeless addition, easy-to-maintain, and durable (just to name a few of the advantages of plantation shutters), meaning you don't have to worry about replacing them often because they've become dated or they've been worn down by wear and tear, as well.
The Feature of Your Feature Walls
For as much character as they have, window shutters can serve as an excellent contribution to a feature wall, creating a focal point to the room. If you want a more minimalist, contemporary interior style, then the shutters alone can be enough to stand out and offer some traditional appeal.
If you want to maximise their impact, however, you can consider using thin curtains to add a contrasting colour or an extra pattern to them or repaint them in a bold shade when you want a new dynamic to the room.
A Variety of Looks
A living room can have one of many different looks or it can mix and match to create its own personality. Your choice of shutters can fit into just about any look with their range of versatility. There's a variety of different colours and materials available, for one, meaning you don't have to worry about them standing out from your colour scheme or offering no contrast.
There are different types on offer, as well. Plantation shutters, named because they first found widespread use in the plantation homes of America, are the most popular choice for modern interior design with larger louvres to give a more elegant look.
Bay window shutters, on the other hand, are designed to fit any shape of a bay, whether round, square, or angled, offering a lot more control between the different window panels.
Optimum Control for Your Living Room Shutters
Blinds have become a popular choice in modern livings precisely because of the control they offer. However, shutters can offer all that and more.
Depending on the type you choose, you can open or close them fully depending on your needs. The adjustable louvres, however, offer even more control. The access to natural light and having complete control over it is considered one of the more important features of a window treatment to many.
Those louvres allow you to not only choose how much light you want indoors, but most shutters come with a partition dividing the top louvres from the bottom – tier-on-tier shutters. Meaning, if you want more light in the home but you value your privacy as well, you can shut the bottom portion entirely while keeping the louvres at the top open to welcome in that light.
Bespoke Living Room Shutters – Built for Your Comfort
Beyond the look, you want your living room to feel comfortable as well and shutters can provide a lot of help in doing just that.
For one, the adjustable louvres, the diagonal slats on the interiors, allow you to instantly switch from wide-open lighting to complete privacy or find a happy middle in between. That adjustability also makes it one of the more climate-friendly window treatments available in the home.
Sturdy wooden shutters aren't just durable, but they provide an extra layer of insulation. They're fitted directly to the windows and specifically to their dimensions, helping you keep more of the heat in your home.
On the other hand, you can open the louvres up to allow more ventilation on hot days without having to open the shutters entirely and letting the hot sun beam directly in.
Take a look at our shutters gallery and get in touch to see the range of shutters that could help you instantly transform your living room.
Invite more natural light, preserve more privacy, and find a new level of charm with Lifestyle Shutters & Blinds.