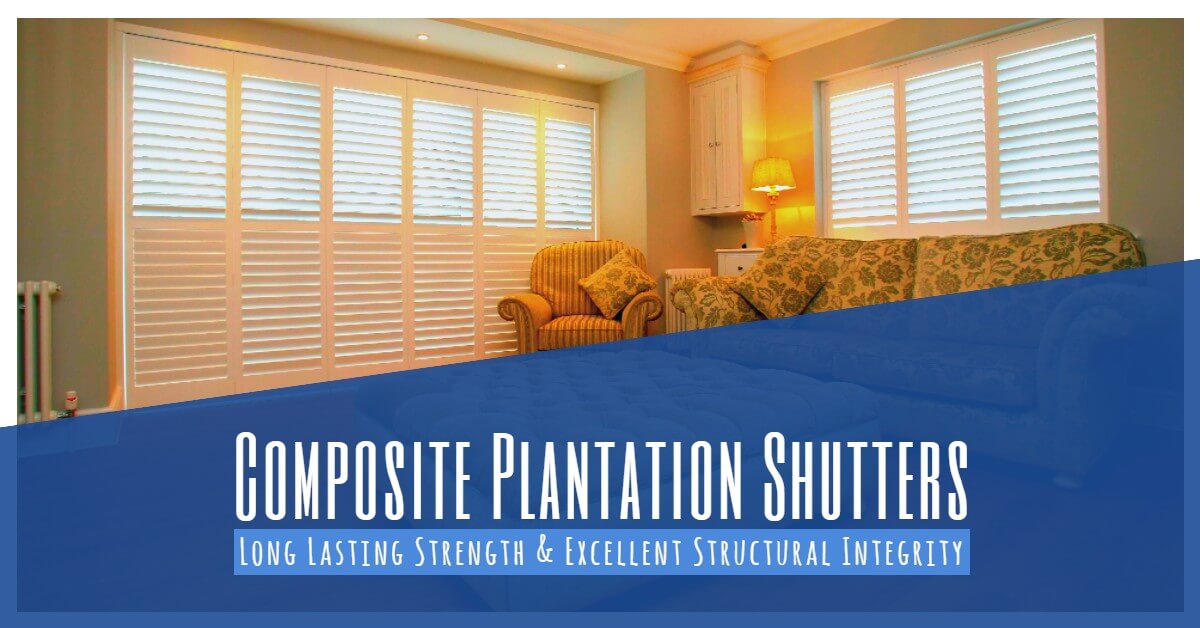 Plantation shutters are an excellent choice for any home. They offer a lot more control over the natural light that comes in through the windows, as well as greater privacy thanks to the adjustable louvres.
But they have an enviable design perfect for giving your windows real character, too. But there's a lot of choice when it comes to fitting plantation shutters, and deciding which material works best for your home is perhaps the most important choice.
Here, we're going to look at the composite plantation shutters, what it offers, and where best to use it.
What are Composite Plantation Shutters?
To some people, the difference between composite and vinyl shutters can be hard to notice. Indeed, at a glance, they look the same. Vinyl plantation shutters are made solely of polyvinyl chloride plastic, also known as PVC.
Composite shutters, however, are made of medium-density fibreboard, also known as MDF, faux wood, or engineered wood. This is a much stronger material, using real wood as a component but mixing it with wax and a resin binder. This engineered wood is then covered with a protective layer of PVC. The mix of both materials offers it a few advantages over both the other options.
Composite Shutters are More Durable Than Vinyl
Vinyl plantation shutters, made of PVC, are the most cost-effective option available. They're light, they're easy to install and maintain, and they have waterproof properties that make them a great fit for kitchens and bathrooms. As they're humidity-proof and weather-proof, they're also perfect for homes that tend to keep their doors open to let the fresh air in.
Composite shutters offer all the same advantages, but with one key difference. The engineered wood core makes composite a much stronger option. Vinyl, though long-lasting and durable, isn't structurally solid. If you try to use it in larger windows without paying for divider rails or other supports, the louvres can start to sag. Composite shutters are a little more expensive, but they don't have the same issue.
Composite Shutters are More Resistant Than Wood
Pure wood grains are the most expensive shutter material and for good reason. The aesthetic quality of real wood is undeniable, for one. But they have that strength and stability that vinyl doesn't. What's more, they can be painted, finished, and varnished time and time again if you want to change the colour and go for a different aesthetic.
However, people will choose composite over wood for a variety of reasons. First of all, it's a more cost-effective way to get the same structural integrity. But there's also the fact that wood simply isn't as suitable for bathrooms, kitchens, or homes that open the windows up to the air outside.
Water, humidity, and the weather can all cause wood to peel and warp, instantly sabotaging that all-important structural integrity. The wood inside composite shutters is kept protected by a layer of PVC, so it stays strong no matter what conditions it's kept in.
Composite Shutters are Available in Lots of Different Flavours
While wood can be repainted and re-varnished to give it a unique look, that doesn't mean that composite shutters are without options.
They come in a variety of colours, from sleek, pure white that's perfect for more contemporary settings to wood imitation that looks almost as good as the real thing.
Once you choose your shutters, you can't change your look as easily but, on the other hand, composite shutters don't have to be repainted, re-finished, re-varnished or maintained very much at all.
Composite Shutters are a Versatile Tool for the Whole Home
As they're water-proof, weather and humidity resistant, but strong at the same time, composite plantation shutters might be the most versatile option of all three materials.
They are perfect for resisting the trying conditions of the kitchen and the bathroom that might warp real wood, but they have no problem offering complete cover for larger windows, either.
While not as cheap as vinyl, they make an affordable alternative to purely wooden shutters, meaning they're the perfect middle-ground for someone who wants integrity but with affordability.
All plantation shutter materials offer their own unique advantages, and your choice will take your budget, your needs, and your aesthetic preferences into mind.
Of the three options, composite plantation shutters offer the best of both worlds. They're waterproof and low-maintenance like vinyl, but they also have the structural integrity and the quality of wood but without the price.
Think about your needs, take a closer look at the range we offer, and decide if composite is the long-lasting, durable, and stylish option you need.
If you need help deciding, Lifestyle Shutters are here to help you. We're are only a call away.