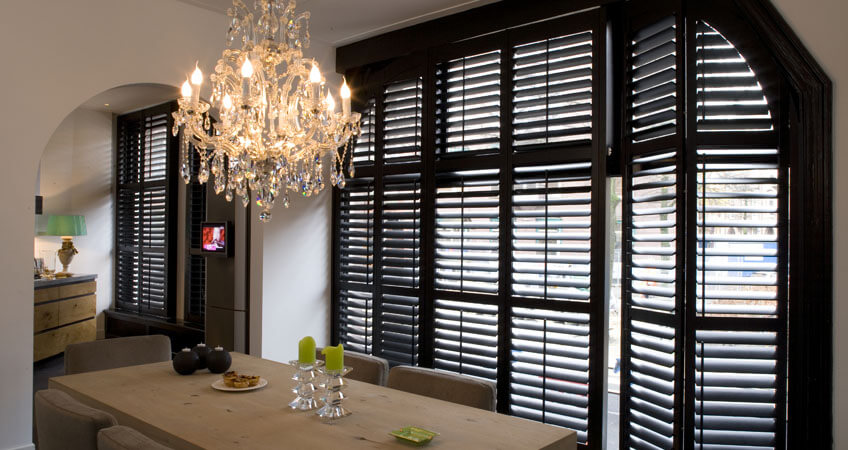 Window treatments come in handy, and shutters are some of the most functional options you can settle for. Shutters are perfect and popular additions that have been widely used for;
Enhancing the beauty in your home.
Shutters control air in and out of a room.
They provide more privacy.
They control the amount of light that enters the room.
During summer, shutters protect you from heat and during winter, they insulate your home against the cold.
Often, when buying shutters, one of the questions that many people ask is do shutters provide complete blackout in a room? The answer to this question varies based on different approaches. However, the rule of thumb is that shutters are designed to block a significant amount of light from entering a room.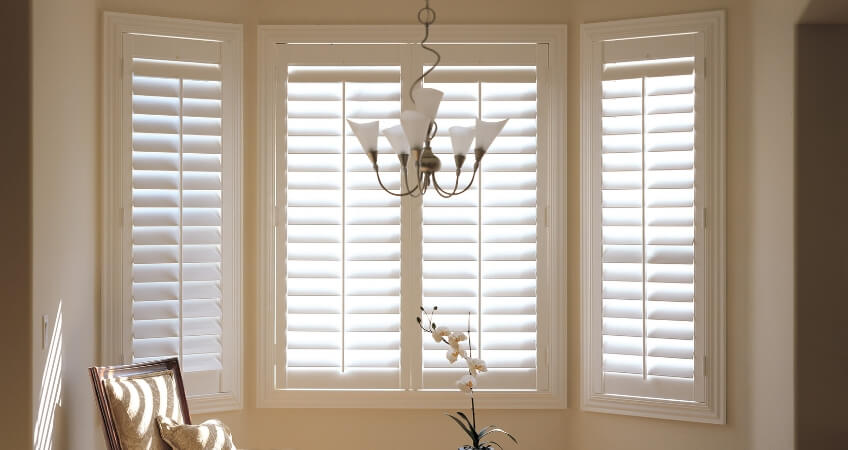 It is imperative to note that light will always find its way to a room through window frames or various window treatments. Even with heavy curtain fabrics and modern blackout shutters/blinds, light may still find a way to your home.
Shutters are however used to control light and when fully closed, they create a very dark environment. These window treatments are very effective and they work exceptionally well compared to roller blinds.
Shutters Block Out a Significant Amount of Light
Shutters and more specifically blackout shutters block out a good amount of light. This is why they are ideal in a home with small kids and if you wish to sleep during the day after a night shift. In this case, you can settle for plantation shutters. They are some of the best blackout shutters for the bedroom. They let in a small amount of light to seep between the louvres.
Similarly, it is wise to note that any room in a home can benefit from shutters. This includes;
Rooms that receive more and direct sunlight during the day.
A living room with furniture and soft furnishings that could fade following exposure to sunlight.
The study room where you can use shutters to create an ideal environment for reading or working on your laptop. You can close or open your louvres to allow in just the needed amount of light.
Blackout Shutters for Total Darkness
If you want absolute darkness in a room, you can go for blackout shutters. They are advanced shutters that block out more light to meet your unique requirements. You can use interior shutters or set up a blackout blind to let in a little amount of light. Often, a combination of blackout shutters and blinds blocks out more light creating a darker environment in your home.
If you decide on combining shutters with blinds, the rule of thumb is to go for white shutters. This is because darker shutters tend to make the room to feel gloomier and smaller than usual. It is even worse if you have darker floors, furniture and flooring options in your home.
Advantages of Blackout Shutters
Creates the Best Environment for Sleep
Best blackout shutters for bedroom allow you to sleep soundly at night and during the day. They are highly functional and keep off up to 98 percent of light from entering your room.
There is an exceptional combination of blackout shutter blinds in the market today. They not only block out light, but they also block out external noise. This feature makes blackout shutters the most ideal window treatments for a nursery and any bedroom.
Shutters come in handy, and you can choose from blackout wooden blinds, vinyl option to shutters for bay windows. These shutters are beautifully designed to help you create the desired environment in a room.
Colour plays a significant role in creating the perfect environment for relaxation in a home. It is imperative to choose the best colours for your living room and bedroom shutters. Today, you will find an array of beautiful colour combinations to match your individual style. What's more, you can settle for colours that complement the existing look in your home.
Innovative Styles and Designs
Blackout shutters also come in a wide array of designs and styles. There are innovative and beautiful louvre designs that provide a completely new look in your home. Such innovative designs also block out a large amount of light. What's, more, there are other blinds that feature excellent craftsmanship to enhance the overall look in your home.
The beauty of blackout window shutter is that you can always maintain an elegant look and feel of wooden interior shutters. This means that you do not have to maintain heavy roller blinds and dark curtains to get the perfect amount of light to your house.
Shutters are also great in keeping a room warm, therefore, allowing you to relax whenever you feel like.
Shutters provide a modern look in any room.
They are easy to fit and maintain unlike roller blinds.
Shutters can easily be pulled down at any time to let in full amount of light through louvres.
How to Blackout a Window
Apart from shutters, there are other ways to black out a window. They are cheap and easily achievable options whenever you are not ready to purchase the best blackout shutters.
     1. Integrate Blackout Blinds with White Shutters
To minimize light in your room, it is important to integrate blackout blinds with white shutters. The blinds are designed to run behind a shutter panel to reduce the amount of light seeping through to your room.
     2. Blackout Blinds Behind Plantation Shutters
Using blackout blinds behind plantation shutters will allow only a small amount of light to your bedrooms. Shutters can fit behind a blind to create the exact effect that Venetian shutter blinds or curtains will create.
     3. Curtains and Shutters Combination Treatment
A combination treatment of curtains and window shutters can also block a significant amount of light from entering your house. They work by creating the needed light closure. To achieve the best possible result, use the shutters with heavy curtains that are bright in colour. The room will remain dark but at the same time, appear bigger than it already is.

4. Choose Shutter and Blind Designs
Shutters and window blinds come in different styles and designs. Take time to choose designs and lights that will create a darker effect in your room. For example, you can choose open louvre designs and blend with pure white shutters. The design is good and the colour is excellent for brightening up a room.
If you love darker shutters, consider wooden blackout shutters and explore darker colour options. Blend the shutters with closed louvres to create the desired effect in your home.
     5. Solid Shutters
You may also want to explore solid shutters if you do not have louvres in your homes. Even when the windows are closed, you can still let in only the desired amount of light.
With these window blackout ideas, making your room darker should not be a major concern. You only need to define your needs and explore the best ideas and create the desired feel and look in your home. Remember, there are the latest innovations in the world of window treatments, and you will always find the most ideal solution to help you block unwanted light in any of your rooms.
Blackout Shutters for Bay Windows
If you have a bay window shutter in your house, you can use shutters to enhance this focal and fantastic feature. Use the best shutters to add charm and character to your home even on cold seasons. Often, finding shutters that can fit a bay window can be a challenge. Even so, there are custom made blinds and shutters to help you block excess light from entering your house. The shutters can be customized to match your design and style needs as well as your preference.
Whether the bay window features a traditional or modern design, you can always get customized shutters to complete the theme of your room/home. For greater balance control it is recommended that you go for;
Vertical blinds and shutters.
Roller blinds.
Roman blinds, shutters because they are highly functional, stylish and come with blackout features that allow you to have better control of the amount of light entering the room.

How to Choose the Best Shutters for your Windows
Shutters block unwanted light in a room, creating the desired blackout effect. However, you need to choose the best shutters to maximize on the benefits this window treatment offers. When choosing shutters, keep in mind;
The size of your window since they come in an array of styles and sizes.
Style because vertical blinds are ideal for larger windows.
The room you wish to install the shutter in, what purpose does it serve.
The quality of window shutter, moisture resistant window shutters made from vinyl are usually a plus.
Determine the cost of buying and installing the shutters. This plays a deciding factor in determining the type of shutters you will purchase. As a rule of thumb, spend what you can afford on a quality shutter.
Get quality shutters that will serve you over a long haul.
Last but not least keep in mind your personal preference, and choose shutters that will create the desired effect in your home.
Remember, making the right decisions when choosing a window light blocker, goes a long way in making your home comfortable for sleep, relaxation, and study. For added benefits, create the blackout style that you desire with the help of Lifestyle Window Shutters and Blinds Ltd, your trusted and reliable window treatment expert in Essex, London and Kent.