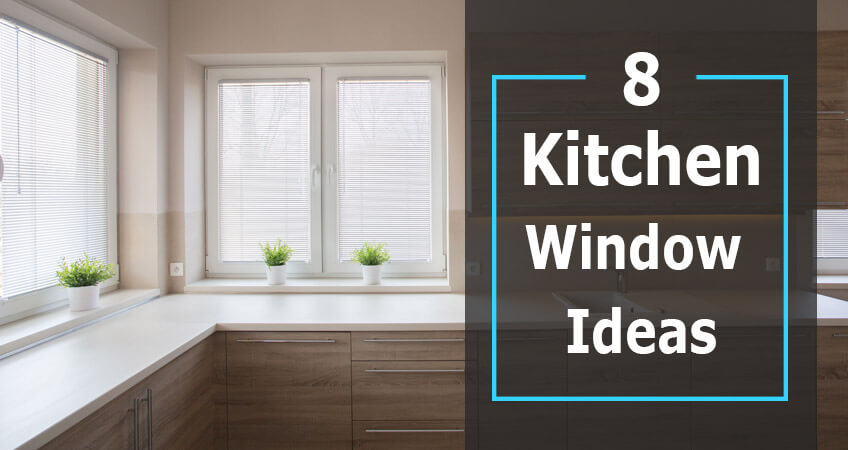 If you want to redesign your kitchen, how you dress the windows will be essential for giving the kitchen an excellent finishing touch. However, kitchen window treatments may not be as straightforward as many people think. Of course, your ideas for dressing your kitchen window should regulate light, and help to control privacy. You should also not forget to incorporate your personality and style.
In the process of creating your dream kitchen, you should consider the possibility of water splashing near your sink and the cooking area. The moisture level of a busy kitchen and how easy it is to clean are also elements you should bear in mind when dressing the window. Which window treatments meet all these requirements? Here's a list of amazing ideas that will make your kitchen look good.
1. Window Film
Adding a window film to your kitchen is a practical idea which helps you save some space. Perhaps your kitchen is a bit small, and you have a window above the sink. Or, maybe you prefer to leave your windowsill free for kitchen display or storage. Then using window film is the perfect dressing idea for you. You may choose a design of stained glass or opt for a plain, etched look to boost the light coming in.
2. Window Shutters

You can never go wrong with using window shutters to dress your kitchen windows. Whether you have the traditional French windows, sliding doors or a contemporary bi-fold door, all you have to do is shut out the night once darkness descends.
When you fit the shutters into the window recess, they are a neat way of dressing your kitchen windows without infringing on your precious workspace. They are easy to clean, and you can insert them in areas that get more traffic in your kitchen. Just a wipe down will have them shining once more.
3. Blinds

One top kitchen window idea is the use of blinds for your kitchen roof lights. Roof lights help to boost the natural illumination of any kitchen. Adding window blinds is useful for softening the lighting and preventing the glare of the sun as it moves around the house. You can use some of the best roller blinds that are power-operated and which come in a choice of different colours for your kitchen window.
If you have selected white or cream kitchen units because of their space-stretching features, why not also consider your window treatment choices? Your dressing ideas should add an accent shade which you can repeat in other kitchen elements. This is why you should go for a Venetian blind to add energy to the setting as well as regulate the light coming through your kitchen window.
You may decide to use top-down, bottom-up blinds which you can adjust upwards or downwards to position them as you please at any point on your window. In suiting the proportion of your kitchen to your taste, vertical kitchen blinds are a proper idea.
Vertical blinds help to attract attention to the grand scale of large patio doors and windows. They also make small windows seem taller by drawing one's eye upwards. They are ideal for those that have a small kitchen.
4. Curtains

Searching for more meaningful ways to enhance your kitchen? Don't miss out on using curtains to give your kitchen window a luxurious finish. Dressing up your kitchen dining area with curtains of your favourite colours is a great idea. This can be used in a large kitchen with excess free space. It allows you to separate the working space from the dining area of your kitchen.
5. Screens
One of the best dressings you can give to your kitchen window is using a filter on it. Apart from being a barrier to small creatures such as insects in your kitchen, it also helps to enhance space. You can fix screens to the exterior or interior of your French, single or sliding patio doors. They fit well with aluminium, wood or uPVC windows too. Screens can be paired with retrofitted or new glazing windows.
6.Cellular Shades
Do you want to add an extra insulation layer at your kitchen window? Knowing that they can reduce your energy consumption annually and help to control the temperature of your kitchen while cooking, using cellular shades on the windows is a good idea. You can choose either the honeycomb-within-a-honeycomb concept or the single-cell design to get maximum efficiency in energy.
The unique thing about cellular shades is that they are in several fabrics, textures, and colours and various opacities and pleat sizes. Hence, they fit into any kitchen décor. You may want to be creative by combining two or more fabrics on one shade to get more light regulation. If your kitchen windows are slides, cellular shades provide you with the flexibility of using either one shade to cover the whole or two different shades that work independently.
7. Roman Shades
One unique kitchen window treatment many people overlook is Roman shades. If you reside in a safe location and your kitchen windows are also secure, then Roman, roller and woven wood shades are for you. Think about how regularly you cook and the amount of heat in the kitchen area. Roman shades help you conserve energy and help keep you comfortable as you prepare food.
Roman shades are an elegant and classy alternative to the traditional window shades. They combine the lush of a drapery with a crisp, clean appearance. It is now common for modern kitchens to be stainless or often all white. Roman shades are one of the best kitchen window dressing ideas to add colour, textures, and patterns to a neutral palette. Like cellular shades, you can combine a dark tone with a light-filtering one, which will both blend into a single headrail.
8. Leaving Your Kitchen Window Plain

Having double-glazed kitchen windows, a beautiful view of the garden, both during the day and at night, might just be enough dressing for your kitchen window. As long as your privacy is not being breached, then there may not be any need to add extra spice. Leaving it plain would be a treatment on its own.
Since you already know these lovely ideas for treating your kitchen windows, it is expedient that you also know how and when to implement them. It is not enough for you to get a grasp of the ideas, but for you to even know which of them suits your kitchen perfectly. Read on to know how to dress your kitchen windows.
How To Dress Your Kitchen Windows
The kitchen is the centre of most family parties and where parties usually seem to end up. It is one of the most congested rooms in the home. So with beautiful window dressings, you can make the kitchen even more alluring. Before you pick out your favourite window treatments, you need to bear in mind the location of the windows.
---
---
Regardless of whether you need to decorate a large, medium, or small casement kitchen window, it is vital for you to choose the treatments that fit the precise layout of your kitchen. You should consider whether the windows are above the sink or closer to the area where you cook. For these cases, kitchen blinds that are resistant to moisture, or robust window shutters should be considered.
If your windows are further away from the working zone of the kitchen, treatments like curtains and Roman blinds are appealing ideas. This is because they will introduce a sense of softness into the kitchen space full of hard materials. The control of light is essential for comfortable food preparation and dining. Therefore in a case of direct sunlight being a problem in the kitchen, adjustable Venetian blinds and plantation window shutters are reasonable ideas.
In dressing your kitchen windows, privacy is a significant concern. When your kitchen has a view of your garden, leaving the window without dressing is still an acceptable idea. On the other hand, a kitchen in plain sight requires made-for-privacy window blinds, shutters, panels, or a window film.
If your windows are close to the stove, sink, or other food preparation areas that grease, steam or water splatters can come into contact with your shades, then, your choices should be between faux wood shutters, faux wood blinds, or vinyl roller shades. These are very easy to clean using a damp cloth, and also durable.
In Conclusion
Since the kitchen is one of the essential rooms in any home, it is good to treat it as such. And what better way can you improve the appearance of your kitchen than by giving the windows the best treatment? So, these ideas are beneficial in creating your dream kitchen.
If you need more clarification on these excellent kitchen window dressing ideas, or how to use them to your satisfaction, contact us at Lifestyle Window Shutters. We will put you through on the best window blinds, shutters, panels and curtains to use. Every area of your kitchen, including the windows, deserve to complement one another, and that is our priority. Reach out to us, and you will enjoy our exemplary services!
---