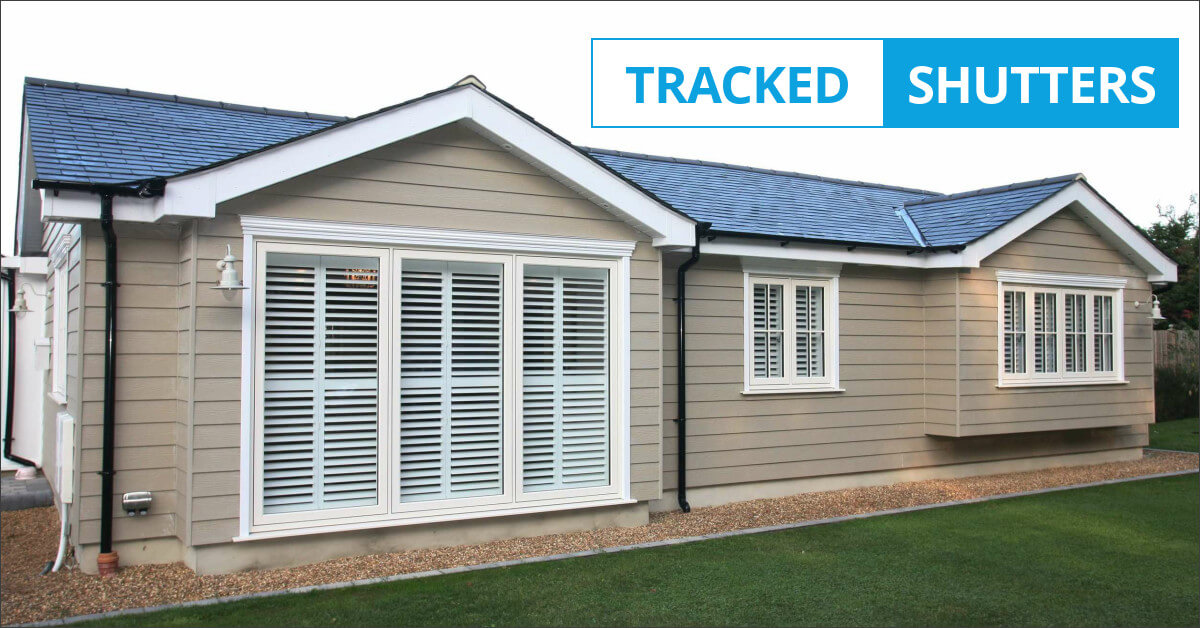 If you're looking for a new feature for the windows and doors of your home in Essex, you might want to consider adding tracked shutters.
With tracked shutters, you will have complete control over both the light that enters your home and indeed your level of personal privacy.
On top of this, it is possible to ensure that tracked shutters reduce your energy usage in the home by providing a more effective level of insulation. The added benefit is that they can also lead to a greater level of sound reduction around your property.
Tracked shutters can be used on french doors and large or wide windows. A lot of UK homes have french doors that lead our into the garden so tracked shuttered could be the perfect option to keep the right level of privacy.
Let's start by looking at some of the features of tracked shutter doors that you should be aware of.
Choose A Design To Suit Your Home
You might think that tracked shutters can only be purchased in certain styles and shades, but this isn't the case at all. Indeed, it's true to say that tracked shutters can be bought to completely match the aesthetic of a home.
For instance, you might want your tracked shutters to stand out as a stunning, unique feature for your property. If that's the case, then we suggest you look at gorgeous cream shutters. Simplistic and stylish, these shutters will look fabulous as part of a modern home design.
Tracked shutters come in a variety of other shades too from chalk pink to black walnut or cloud blue. As such, it is a great way of guaranteeing that the interior and the exterior of your home looks completely unique and give a room a little much-needed character.
How Do Track Shutters Work?
A tracked shutter system will change the way that your shutters are operated by you. With tracked shutters, the shutters are connected to metal rails.
These can be at the bottom or top of the shutter, and for some designs, they are at both. A small risen disk made of metal is put on top of the shutter panel.
Using this, the shutters can be locked completely in place, and by doing this, you can guarantee that the shutters never drag.
Bifold tracked shutter design
There are two types of ways that tracked shutters can work. The first possibility is with a bifold tracked shutter design. They operate in roughly the typical way of a normal shutter.
These shutters are hinged and can be fully open or closed. Although, they do need to be shut to concertina and guarantee the panels are flat on top of one another.
With a rail that connects the top or bottom of the shutter, the shutters stay in place when they fold. This is one of the most common forms of the tracked shutter that you will see in the UK.
Bypass tracked shutters
You can also get the bypass tracked shutters. With these shutters, the panels are always parallel and in line with the windows. With two points, they are fixed with a bottom and top track.
Since they are on two different rails of track, one panel is able to essentially bypass another, hence the name. This type of design is far less popular, but it may still be used.
The reason they are less common is due to the fact that there will always be a panel covering your window. As such, you can never have a completely unobstructed view.
Though in some cases this is the only option available for tracked shutters and that is certainly true for smaller apartments that are more compact.
Since shutters need to be attached to the tracked shutter system, plantation shutters that are full height offer the only real possibility for this setup. That means that one panel of shutters needs to cover the full surface area of the window, door or wherever else you might be using them.
Other shutter systems such as cafe style shutters or even tier on tier shutters are not a possible choice due to the way they split at mid-height or indeed break.
If you are interested in separating the full-length shutters, this is an option which can be accomplished by using a midrail. The wooden beam can be put across the panel to keep two sets of panels separate from one another.
To do this, it is important to match the midrail to any bars already existing as this will ensure that very little natural light is blocked.
The Big Benefits Of Tracked Shutters
Tracked window shutters provide a number of clear benefits as both a design choice for your home and a window covering.
Tracked shutters never go out of style
First, we need to think about style. It's fair to say that a lot of accessories you can buy for your home and your windows will fall in and out of style. Just take a look at curtains. One minute they are in style, the next you should be using drapes and so the process goes.
Shutters are an ideal option because they never go out of style. Their typical, minimalistic aesthetic helps ensure that your room always looks stylish. Of course, one of the key benefits with some types of tracked shutters is that they can be removed from the window or door completely. So, if you ever do get sick of the way they look with your windows, it's easy to move them out of sight.
Tracked Shutters keep out harmful UV light
Other benefits of tracked shutters is to keep out harmful UV light. If you have a family, you want to make sure that you are not exposing them to the sun's most powerful and harmful rays. With shutters, you can ensure that they are protected by something far stronger than your typical drape.
And, with tracked shutters, you are always in complete control, letting in as much sun or as little as you like. That also means that you can keep your home at the perfect temperature without ever needing to touch the thermostat.
Tracked shutters control the level of heat from the sun rays
A lot of homes these days are either too hot in the summer or too cold in the winter. With the right set of tracked shutters, this is no longer an issue, and we're not just talking about the ability that you'll have to control the level of heat from the sun rays in your home.
As well as being a great insulator, tracked shutters, if the right colour can also reflect heat from your large windows or french doors. This makes them the ideal option for the modern home.
The system for tracked shutters may seem complicated or difficult to understand at first, but we promise it isn't. In fact, the simplicity of tracked shutters also guarantees that they are easy to maintain and keep clean. Due to this, they can be an excellent option for anyone with allergies or breathing issues.
The Perfect Fit For Any Home
You might think that your home isn't a suitable option for tracked shutters, but this is certainly not the case. In fact, tracked shutters are a clever way to add a little more style and decor to any property.
The reason for this is that they can be made to fit any space and as already mentioned, come in a vast array of colours and shades. Due to this, there is no doubt that tracked shutters can fit with your room, style and decor.
Are Tracked Shutters the Right Choice for My Home?
After viewing the benefits of these systems, you might be wondering whether it is the right design choice for your property. We think we have shown that tracked shutters are a fantastic choice for a variety of reasons. But, this is still a personal decision.
That is why you should speak to a professional shutters fitter. They will help you determine whether tracked shutters will match your rooms aesthetic as well as giving you details about the benefits that they could bring to your property.
A skilled professional will be able to assess your property and determine whether tracked shutters will fit with your style. If you are buying tracked shutters online, make sure that you choose a company you can trust as the operations of tracked shutters will largely depend on the quality of the build.
With an excellent supplier, the tracked shutters that you purchase will fold away or concertina away naturally and seamlessly. However, if you invest in the wrong supplier, then you may find that you do not get all the benefits from a proper tracked shutter system.
Need Help?
We hope this guide has helped you learn a little more about tracked shutters and allowed you to determine whether they could be the right option for your home.
If they are, make sure you get in touch with us today to get a brand new look for your large windows or french doors.
We think you will be amazed by the change that tracked shutters bring to your property.