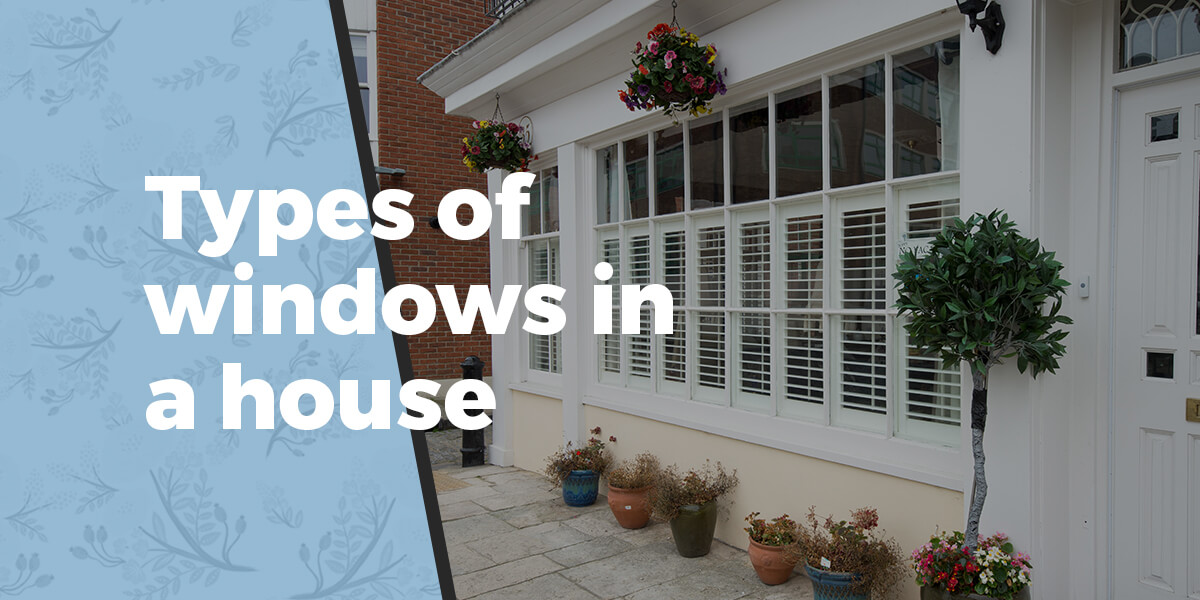 Windows are essential parts of every home. They allow ventilation and light in a house and are usually arranged to suit the architectural design. During the daytime, they allow light into the room and illuminate furniture and paintings. Many features of a window show that it can be used to improve the aesthetic appeal of any house.
There are different types of windows that you can have in your house. The most common types are made of glass, but architects and design engineers have come up with several other designs for house windows. The different types of windows that are available can be classified based on the;
Frame Material
Type of Operation
Glass features
Position of the Window
Shutter Form
Frame Material

The frame of the window is one of the factors that distinguish the different types of windows from one other. The material used to make the frame of a window can be made of;
1. Timber or Wood
The types of house windows that have timber or wooden frames are excellent windows to beautify your home. These frames insulate the home excellently but are usually very costly to purchase. Also, house windows that use this type of framing material require frequent maintenance. However, a vinyl or aluminium cladding may be used to reduce the maintenance cost of house windows that make use of this type of framing material.
2. Metal
Different types of windows used in homes can also be made from metal frames. Mild steel and aluminium are the two types of metals that are commonly used in the frames of windows. Aluminium is light and strong, and since it is a metal, it is a poor insulating material. Metal frames used in different types of house windows should have a thermal break to reduce the heat flow in and out of the house.
3. Glass
The type of frames that are made of glass are commonly used in the windows of skyscrapers and are seldom used in houses. They are used as an architectural feature in the windows and allow for more light to enter into the house or building.
4. Composite Material
A house window may also have its frame made from composite materials. The materials may be made from laminated lumber, particleboard or polymers. Composite materials used in window frames are stable and have higher thermal performance when compared to wood.
5. Vinyl
Different types of house windows may also have their frames made from vinyl. Polyvinyl chloride and ultraviolet light stabilisers are used in vinyl window frames to prevent the breakdown of the frames when exposed to sunlight. However, different adjustments may be made to improve the thermal properties of these types of window frames.
Type Of Operations
Another distinguishing feature of the different types of house windows is the operation of the window. Architects and design engineers have provided different designs for the operation of house windows, and each has a unique air flow rate. The house window types categorised by how they operate include;
1. Fixed Windows
This type of house windows do not open. Hence, they do not allow the flow of air in and out of the house that they are installed in. The house windows that operate this way are usually used in public buildings where there is little consideration for ventilation.
2. Horizontal Sliding Windows
A window may also be made to operate by sliding its sashes to open. Usually, when one sash is fixed, the other would be allowed to move freely, to permit the flow of air into the home. The sashes of this type of house windows should be frequently lubricated.
3. Awning Windows
In this type of windows used in homes, the top is hinged to the building, and the window opens when swung outward. They are very useful for ventilation of a home even when it is raining.
4. Folding Windows
The operational design of folding windows allow a high flow of air into a house. This type of house windows has many panels that permit easy opening, folding and unfolding of the window.
5. Double Hung Windows
This type of windows for homes have two sashes that slide vertically to open. There is a high air flow rate in these house window types than in others.
6. Hopper Windows
This is somewhat like the opposite of an awning window. In this case, the window is hinged at the bottom and opens inward. However, they do not allow for as much ventilation as awning windows do.
Glass Features

People photo created by katemangostar – www.freepik.com
The type of glass or glazing used also distinguishes the different types of windows from one another. Depending on some factors like the design and the orientation of the building, climate conditions, among many others, different types of glass may be used for the windows of a home. Some technologies that these types of house windows may have include;
1. Low-Emissivity Technology and Coatings
This is one of the glass features that house windows may have. These coatings are used to reduce the energy lost to the environment. They may be applied before or after the windows have been manufactured.
2. Gas Spacers and Fills
Glass fills are used to reduce the heat transfer in and out of a house. The commonly used gas fillers are argon and krypton. Spacers, on the other hand, are used to keep the glazing layers apart.
Position Of The Window
The position of the window in a house can also be used to separate the different window types from one another. The different house window types based on their positions are;
1. Corner Windows
This type of house windows are located at the corner of the house. Usually, two corner windows are used at a time. They allow ventilation and light from both sides of the house and are usually fixed or allowed to slide.
2. Circular Windows
These windows are circular, as the name suggests. They are used in factories and are placed at elevated positions. Circular windows are usually fixed or awning windows.
3. Bay Windows
These windows protrude from a wall. They create a shelf and make use of flat windows. Usually, bay windows have two side windows placed at 30 to 45 degrees and a flat centre window.
4. Bow Windows
Another type of window characterised by its position is the bow window. The window is attached to an external wall and is in the form of a bow. Bow windows may usually consist of several panes that are fixed. They are very expensive to purchase and maintain.
5. Egress Windows
These are escape route windows. They are the type of windows used in emergency escapes and prison cells. They are usually, fixed and are placed on the highest position on a wall that is closest to the roof. Egress Windows are also frequently used in basements.
6. Skylight Windows
Another type of house windows that are used in homes and buildings are skylight windows. As the name implies, these windows are placed on the ceiling of the house. They are excellent windows for increased ventilation in a house. If you have limited exterior walls to use, then you should consider using skylight windows.
7. Transom Windows
A rather unusual type of windows in urban areas is the transom window. They are windows that are installed above doors and are used to add a unique design feature to the house. The ventilation and light gotten from these windows are not as much as in other house window types.
8. Dormer Windows
Dormer windows are windows placed on the slopes of roofs. Each dormer window has its one roof, and they are good spots to place flower pots.
Shutter Form

Based on the form of the window shutters, the different types of windows are;
1. Louvred Windows
These are windows with horizontal or vertical blinds. Louvred windows are used to restrict views and light while maintaining the room or house's ventilation. They are commonly used in closets and bathrooms.
2. Panel Windows
These are windows with vertical or horizontal demarcations called panels. A panel window can have between two to six panels, but the first and last panels must be hinged to the wall. Homeowners have gradually stopped using this type of windows.
3. Casement Windows
Casement windows have shutters that open like a door. They are secure and very attractive. They allow light and ventilation into the room when they are opened up.
4. Glazing Windows
This type of windows for homes is entirely made of glass panels. The panels may have wooden or aluminium shutter frames. They allow transparency of the room or house and easily lights it up.
5. Partially Glazed and Partially Panelled Windows
This type of house windows is usually placed on the walls of buildings. They are divided into two parts; the glazed portion and the panel portion. They allow light to readily enter a room (glazed part) while shielding it from entering another until the panels are opened (panel part).