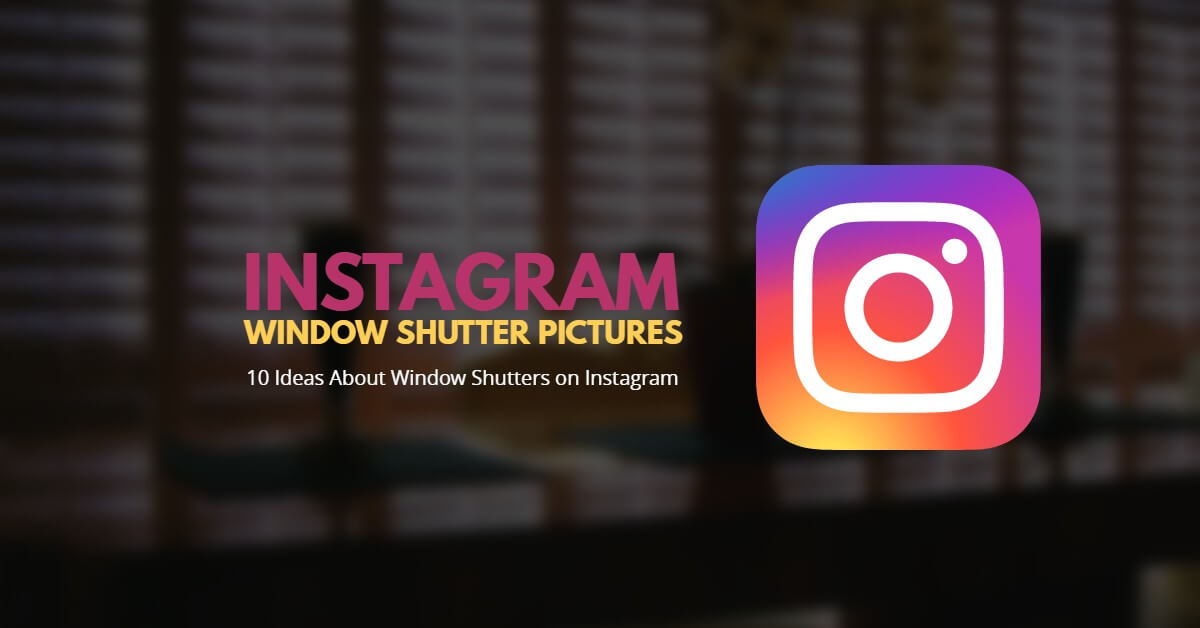 While the weather is warm, summer is the best time to redecorate your home.
If you are looking to redecorate or install window shutters, look below at the top 10 Instagram pictures featuring window shutters.
Interior Window Shutters
What Lifestyle Shutters love about this first picture on our list of door and window shutters, is that while most people will opt for white shutters, these brown wooden shutters bring to the office a smart and professional atmosphere.
Conservatory Shutters on Windows and Doors
We cannot get enough of these louvered shutters on the windows and doors in this conservatory and how the colour blends in perfectly with the furniture.
This conservatory has such a relaxed atmosphere and is the perfect room to escape to, to read a book on a beautiful and sunny day, with the indoor shutters helping to reflect the light around the room.
Bespoke Interior Plantation Shutters
An advantage to installing plantation shutters in your home, is that should you have unusually shaped windows, such as triangular, diamond or semi-circular (arched windows shutters), bespoke window shutters can be designed to perfectly fit your window, which is what this Instagram picture demonstrates.
Bathroom Shutters for Windows
Varnished wooden window shutters or plastic window shutters are the perfect alternative for your bathroom window treatments. Internal window shutters are both hard wearing and easy to clean.
Door Shutters
What we love about this picture of shutter doors, is that it is both a great demonstration of how you can adjust the interior shutter slats depending on how much or how little light your want to enter your home, plus this shows that by choosing a dark colour to stand out against your light colour coordinated room can work and in a sense, act as a feature to your room.
White Plantation Shutters
This window shutter picture demonstrates how white wooden shutters for windows can really brighten up a room, giving it a crisper and cleaner feel, while blending in perfectly with the interior design of this room. Additionally, those cupcakes and cups of tea look delicious!
Bedroom Window Treatments
Whether your room is a basic plain room, or has more of a quainter feel about it, such as this room, if you're stuck on what colour internal shutters to choose, white window shutters pretty much go with everything.
Window Drapes
Just because you choose to install interior shutters for windows, doesn't mean that you are restricted to that singular window treatment idea.
There are other options such as installing drapery or sheer curtains over your windows with shutters to provide your room with a different effect and appearance, such as in the picture we found on Instagram.
Drapes and Curtains with Window Shutters
If you don't want your entire windows to be covered by interior wood shutters, then they don't have to be. Cafe style shutters provide you with the opportunity to have the lower half of your windows covered with indoor window shutters, while the top of your window is left open, so that you can still completely see the outside world and full sunshine can enter your home.
Meanwhile, the picture displays how louvre shutters are the perfect option for children's bedrooms, as they are safe around children – with no cords unlike blinds – and they are easy to clean.
Additionally, we love how the picture shows the option to accessorise wooden shutters for windows with window curtains.
Window Shades
The final photo on our top 10 Instagram pictures displaying window shutter interior design ideas, is this lovely idea of layering window shades over the top of wood plantation shutters, giving you the best of both worlds for people who cannot decide between the two window coverings.