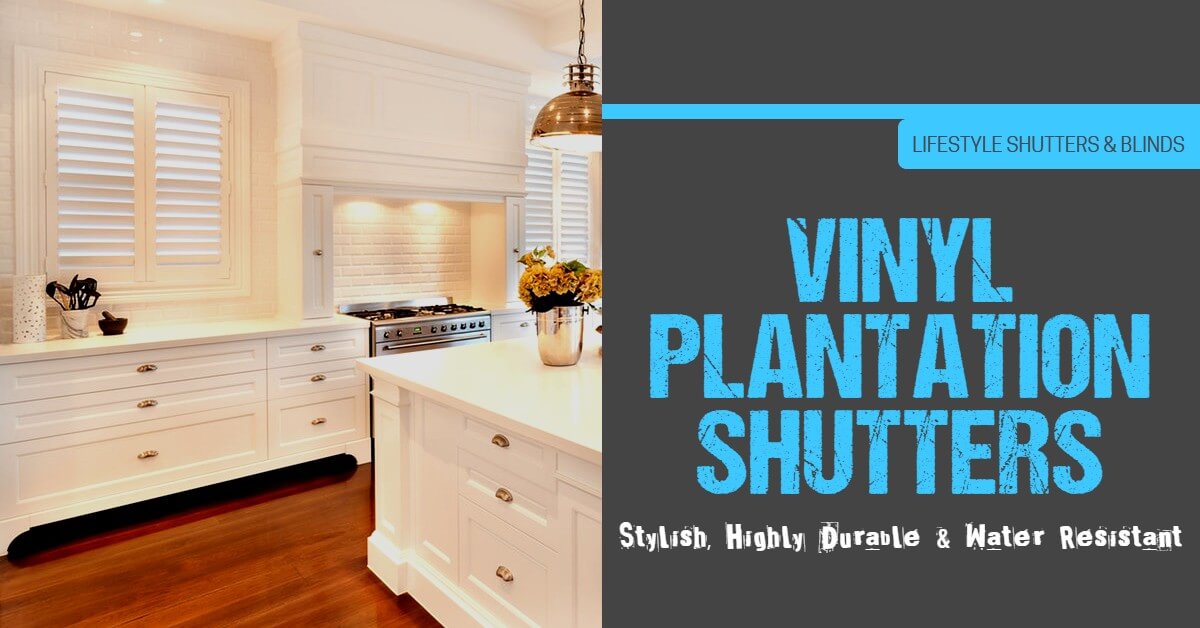 Though they've been with us since antiquity, with the first shutters of marble seeing use in the days of Ancient Greece, they keep coming back again and again as an interior trend.
The modern style of plantation shutter, as the name might give away, harkens back to the homes of the Old South in America.
Beyond having an iconic look all their own, they offer much more control over the natural light in the home than curtains but without the lack of character that blinds have. But choosing vinyl shutters when fitting plantation shades can offer a lot more, still.
Why Choose Vinyl Plantation Shutters?
Alongside vinyl plantation shutter, real wood and composite are amongst the most popular options. Composite offer something of a "best of both worlds" option, but what are the main differences between vinyl and wood shutters?
The most obvious advantage that vinyl has over wood is the sheer utility of the material. As it's entirely waterproof, you can fit vinyl shutters in the bathroom and the kitchen without having to worry about them degrading or warping over time.
But it's not just moisture they protect against. Though lightweight, they're sturdy and solid, resisting the scratches and marks that can ruin wooden shutters over time if you're not careful.
Vinyl shutters are much easier to use than wood, too. After you fit them, they rarely need any upkeep or additional care besides dusting them from time to time.
On the other hand, wood might have to be re-painted, re-finished, re-stained, and repaired a lot more often. The lightweight nature of vinyl, however, means that it's not best suited for larger shutters and can start to sag under its own weight.
But you can use divider rails to avoid that issue entirely. Of course, vinyl is much less expensive than wood, too, so it's not just easier to look after, it's easier to fit, too.
A Variety of Different Looks & Styles
Vinyl is not only one of the most durable materials available when choosing your plantation shutters, it's also one of the most versatile.
There are options in different colours and designs, including shutters that look as close to authentic wood as you can get without actually using wood, so you don't have to worry that your shutters are going to look unnatural.
On the other hand, more contemporary options like pure white shutters allow you to keep a sleek, light look in the home.
There are also a variety of styles that each have their own appeal, too. Full-height shutters cover the window completely, opening up as a single shutter, giving a clean look and making it easier to close and open up the home to the light as you desire.
Café style shutters are best for letting light flow in freely while maintaining privacy by covering up the bottom portion of the window.
Tier-on-tier shutters offer the most control with two separate units, one on top and one below.
Welcome Vinyl Shutters Into Your Home
Vinyl plantation shutters are by far one of the most versatile additions to make to your interior. Depending on which style you go for, they can offer a lot more natural light to the home while maintaining your privacy, or they can allow you a great degree of control over both of them.
Their waterproof nature makes them perfect for fitting in both the kitchen and bathroom without ever having to worry about whether or not they're going to peel or warp. There's a huge amount of different sizes, too, so you can use them for small windows, tall windows, or even French doors.
Your choice between wood, vinyl, and composite is all up to you. However, plantation shutters are a clear winner over other window dressings available.
They have an enviable, unique aesthetic compared to curtains and lack the cumbersome, all-or-nothing design of them, allowing for more control over how much natural light you let in the home thanks to the adjustable louvres.
Compared to blinds, they're much easier to fit and much less likely to become wonky and mismatched over time.
Choosing a material for your plantation shutters is a matter of personal preference and thinking about what you need from them given the location they're being used.
Vinyl shutters are perfect for kitchens and bathrooms, but they can be just as durable, just as sleek and modern, and just as versatile across the whole home.
Take a look at our shutters gallery and get in touch to see the range of shutters that could help you instantly transform your living room.
Invite more natural light, preserve more privacy, and find a new level of charm with Lifestyle Shutters & Blinds.