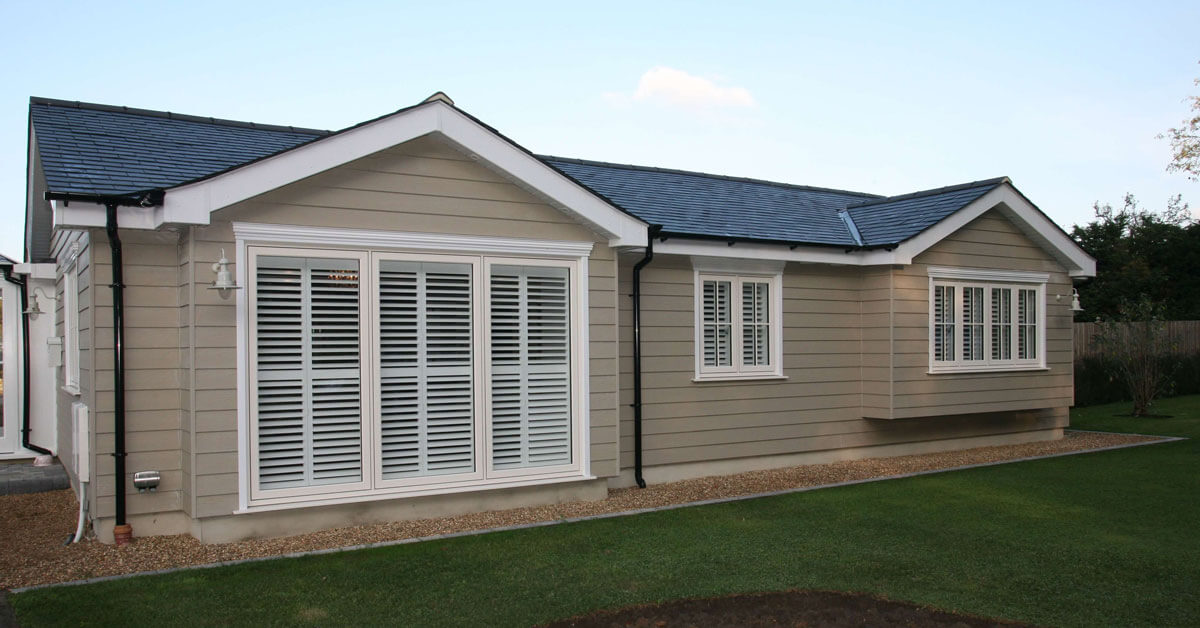 When it comes to window treatments, there are more options than you might think.
We all know the ubiquitous options such as curtains, roller blinds, venetian blinds, and vertical blinds.
But there is one option that deserves to have a little more light shed on it (pun intended).
Here, we're going to look at plantation shutters, what they are, and just how they might be the best option for your home and your windows.
What are Plantation Shutters?
To start at the beginning, the origin of plantation shutters is all in the name.
First popularised in the American south, these timeless window treatments have become closely tied to the imagery of rural farms and estates.
Permanently fixed to the wall, they consist of large frames, somewhat like windows, but with individual slats filling the middle instead of glass.
These slats are adjustable, meaning you can choose how open or closed you want them to be, much like vertical and venetian blinds.
There are also traditional shutters, which contain smaller, more narrow slats, but recently their popularity has waned with the ascendance of plantation shutters.
The Natural Appeal
Why would you choose plantation shutters over the many other types of window treatments available?
The aesthetic style of them has to be one of the most obvious answers. They have a distinct profile and a signature style, making them immediately evocative of the old-fashioned American rural homes that they once came from.
But a huge part of that appeal is also down the natural look that wood and faux wood shutters provide a home
Many plantation shutter owners choose to keep the warm hues, beautiful grain, and naturalistic look, but plantation shutters are also commonly seen in pure white colour; white shutter blinds.
This is down, in part, to tradition, but also because white is much better at bouncing off heat and keeping the home cool, an important feature in the humid environments the shutters first came from.
Any Way You Like It
The look is only one of the advantages that plantation shutters offer over some of the alternatives, however.
An increased level of control over the home is another of their key features. When fully closed with the slats drawn up, it offers better energy efficiency and privacy than all the other options.
But controlling those slats allows you to decide exactly how much natural light you allow in the home, how much airflow you allow to affect the environment, and how open or closed you want to keep the interior to the outside world.
Of course, on days you want the sun shining and fresh air, you can open the shutter doors entirely, too.
Compared to curtains, they are also much easier to maintain, often requiring little more than a wipe to clear up any stains and to stop dust from gathering.
Finally, the longevity of plantation shutters is not to be underestimated, with all varieties able to last upwards of fifty years with the right maintenance and care.
The Other Options
Wood isn't the only material available for plantation shutters and each of them offers their own advantages and disadvantages.
Vinyl shutters are much lighter, meaning they're less sturdy and less suited to large windows, but they are the cheapest option and they are also entirely waterproof and weatherproof, meaning they're more suitable for kitchens, bathrooms, and exterior shutters.
Faux wood shutters are made of a composite wood material with a PVC finish on the exterior, offering the stability of wood but the same durable properties as vinyl.
Fit to Any Aesthetic
Regardless of which option you choose, plantation shutters don't always look the same.
They can give any home a rural, rustic appeal, but they can be a great contrast in industrial chic settings, while vinyl shutters are perfectly suited for more minimalist, modern designs.
Wooden shutters can be refinished and painted time and time again to offer a new aesthetic whenever you wish.
Vinyl and faux wood shutters aren't as versatile, but they come in a huge variety of different colours and designs, including natural wood grain designs.
Beyond offering serious visual appeal, plantation shutters also add kerb appeal, giving a real boost to the value of the home.
Not only are they a personal choice, but a potential investment, too.
With a great control over climate, light, and privacy, as well as the option to easily fit windows of all kinds in all rooms, the advantage of choosing plantation shutters is clear.
There's a wide variety of designs, materials, and aesthetics available, too, so finding the shutters to fit your home and your budget is easier than ever.