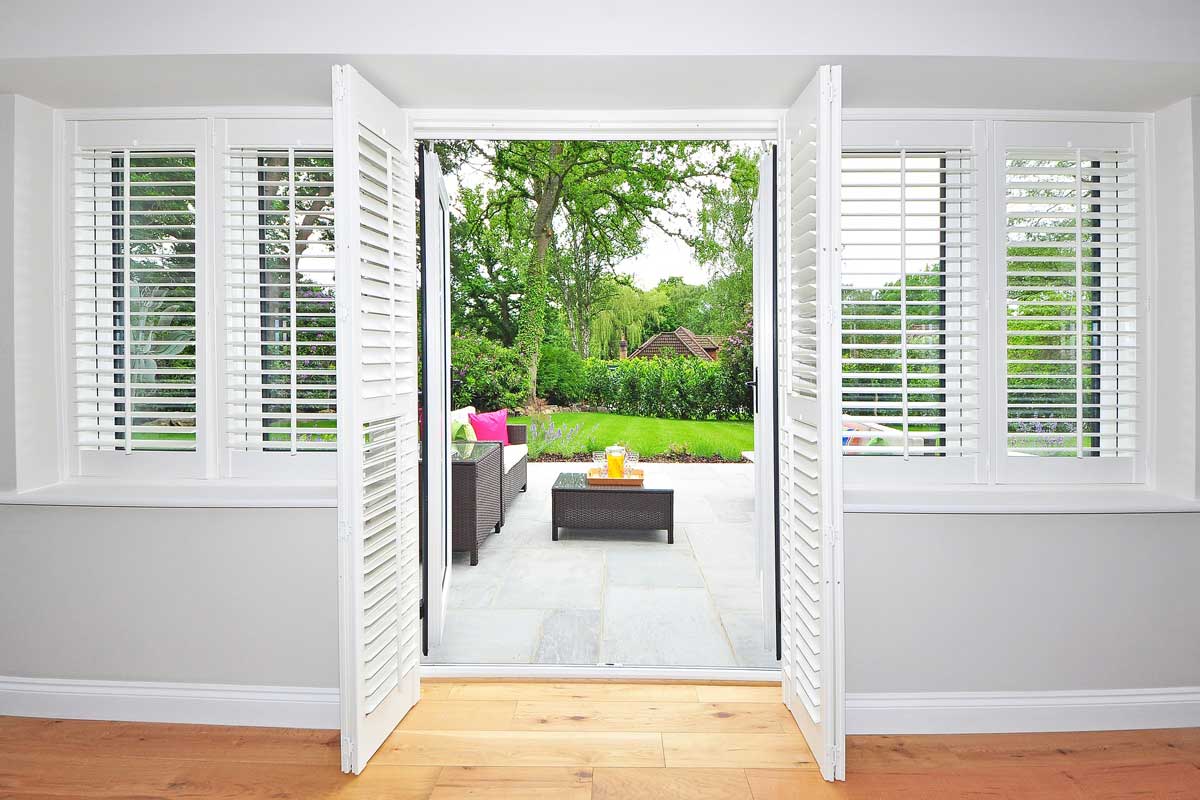 Anyone who is deciding between the many different styles of window shutters, has most likely reached the dilemma of trying to work out which plantation window shutters they should choose.
There are so many different styles, all with different benefits and it is important that you are happy with the style you have chosen for your room.
This is why this post has been created: to help you make your final decision on which bespoke window shutters you should choose.
Full Height Shutters
Full height plantation shutters (otherwise known as California shutters) cover the whole of the window, as the panels come in one piece. This is the classic window shutter design.
While full height interior window shutters is one of the simplest options, they come with many benefits and create a neat, clean and elegant appearance in your home.
Advantages
• Insulation
• Helps to block outside noise
• Privacy
Disadvantages
• While there are no particular disadvantages, one struggle that you may come across is trying to reach the tops of the shutters to clean. luckily, they are quick and easy to clean, only needing a simple wipe over with a damp cloth.
What Room?
• Bedroom
• Bathroom
• Dining room
These shutters are great for french or patio doors, along with big windows – in particular windows without a meeting rail.
Full Height Shutters with Mid Rail
Full height window shutters with a mid rail are popular due to people getting more control of how much light enters the house.
In the middle of the window shutter is a mid rail which not only helps to strengthen the window shutters, but prevents them from warping and bending.
Due to the top and bottom set of shutters being separate, they have separate tilt rods which means that they can have have different light control settings, dependant on your preferences.
Advantages
• You receive further light control
• Layer of insulation
• Sound barrier
• Privacy
• The mid rail can be lined up with the window's meeting rail, so you can hide any handles, creating a neater finish
Disadvantages
These window shutters can sometimes make the window look too busy.
What Room?
• Living room
• Dining room
• Office
Cafe Style Shutters
Cafe window shutters cover the lower half of your window, providing you with privacy from people walking past your house, while leaving the top half of your window clear so that you can get maximum sunlight into your room.
Advantages
• Privacy
• Let in plenty of light
• Easy to clean as the shutters finish halfway up the window
Disadvantages
• No sound barrier
• Doesn't help with insulation
What Room?
• Kitchen
Perfect for restaurant environments like cafes or for rooms where you want a decorative feature or traditional, country appearance.
Tier on Tier Shutters
Two tier shutters are extremely useful as you have full control of light.
These are two separate shutters that have been installed one above the other, meaning that you can control how much light enters the room, with the option of leaving one set of shutters closed and the other shutters open, or giving them different light control settings.
Advantages
• Privacy
• Sound barrier
• insulation
• Full light control
Disadvantages
• Can sometimes make the window look too busy.
What Room?
• Kitchen
• Office
• Living Room
For further help and assistance in picking a window shutter style for you room, or for questions about prices please call Lifestyle Shutters & Blinds today.